Chuck Boles
,
M.A.
(703) 850-7400
Chuck@MediatorChuck.com  ●  www. MediatorChuck.com
Why Contact Chuck?
As a Certified Mediator, Chuck provides a cost-effective process for voluntary, private, and confidential negotiations between disputing parties seeking to avoid potentially expensive and lengthy public court litigation or arbitration.
The combination of his extensive business, academic, consulting, and mediation skills will produce an comfortable environment where you and the other party can openly present your positions and discuss options for not only resolving the dispute but also repairing the relationship. When seeking a mediator with the knowledge that can help you resolve almost any dispute, you should consider contacting Chuck.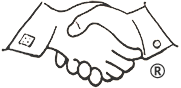 "Restoring Friendly Handshakes"SM
© Chuck Boles, M.A. — Court Certified Mediator
MediatorChuck.com • Chuck@MediatorChuck.com