How Can Chuck's Mediation Process Help You?
Chuck's 7-Step Mediation Process provides you with a private, voluntary, confidential, and cost-effective alternative to an arbitration or public court action.
His mediation process offers a confidential open-forum where disputing parties can comfortably express their positions and discuss alternative solutions for resolving their dispute. Hopefully, the final outcome sees the parties repairing their relationship.
Why Use A Mediator?
People often ask me, "Is using a Mediator to resolve my dispute better than going to court or arbitration?" Well, in my opinion, in order to avoid the "painful" process of public litigation or arbitration, one should consider using a Certified Mediator to resolving their dispute.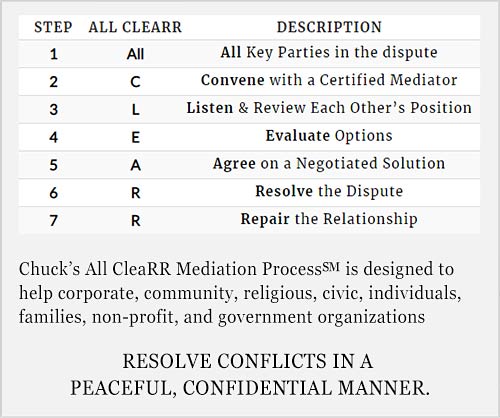 The method you choose to resolve a dispute can have
an outcome similar to a 1st, 2nd, or 3rd degree burn.
For example:
An ARBITRATION outcome can feel like a Severe 3rd Degree Burn..

Arbitration can be lengthy and costly with the decision of the Arbitrator being FINAL and BINDING. There is NO APPEAL by either disputing party……Period!

LITIGATION can result in a Moderate 2nd Degree Burn experience.

Public Court Litigation enforce the law and can be lengthy and costly. Even though a disputing party can APPEAL a judge's ruling, the court is PUBLIC and NOT PRIVATE.

MEDIATION normally resembles a Light 1st Degree Burn experience.

Mediations can be the least painful! Mediations offer a CONFIDENTIAL, PRIVATE, and COST-EFFECTIVE process where the mediator acts as a fair and equitable 3rd party in assisting parties settle a dispute.

Bottom Line:

A Mediator empowers disputing parties to privately resolve their dispute to avoid experiencing a potentially more "painful" process and outcome. Chuck's effective 7-Step All Clearr Mediation Process℠ helps corporate, community, religious, civic, families, individuals, non-profit, and government organizations resolve conflicts in a cost-effective, peaceful, & confidential manner.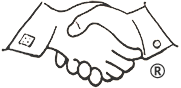 "Turning Disputes & Opportunities Into Handshakes!"SM
2019 © Chuck Boles, M.A. — Court Certified Mediator
Headquartered in Harrisonburg, Virginia - Shenandoah Valley
MediatorChuck.com • (703) 850-7400 • Chuck@MediatorChuck.com